How often do you try to do everything on your to-do list? Frankly, if you ever try to do everything on your to-do list, you're making a big mistake. But you're in good company. It's a mistake made by almost everyone — especially entrepreneurs.
You're used to doing everything on your own. I get that. I lived that! But no more. My time is valuable. I can put an actual dollar amount on it. That means that it can cost me money — in the form of lost time — to do certain tasks.
The trick, the biggest trick, to reclaiming your time, is to learn what tasks you do that can be handled by someone else. I know what you're thinking. You're thinking that you're the only person who can possibly do the job right. You're thinking that only you understand exactly how it needs to be done. You must do everything yourself!
You are wrong.
It can take a little bit of ramp-up time to get to the point where you can delegate some of your tasks. It will definitely require you to think differently about how you do things. But you can — and should — invest this time, because it will pay off wildly in the long run.
Start small, but think big
When you first start delegating, it's nice to start with a general rule. For example, you could decide that you will delegate all phone calls that are not directly related to making you money. So, for example, let's say that today, you need to call a realtor about that office space you drove past the other day, plus you need to reschedule the dentist appointment you forgot about, and you're also supposed to get in touch with your son's teacher about the playground incident, and you have to call Netflix to figure out why they decided the gift certificate you bought for your father is valid only in Canada.
Enter FancyHands, one of my favorite cheats and hacks for startups. For one ridiculously low monthly fee, you get a team of US-based assistants (that's important here, because there's no language barrier, you don't have to explain what Netflix is, and their time zone difference won't be more than 3 hours) who can handle all sorts of tasks for you, including (but most definitely not limited to) making phone calls.
With a couple of quick emails, you can get your assistants working on these calls. They'll get the information about the office space and set up a time for you to view it. They'll schedule your dentist appointment — and put it right on your calendar so you don't forget again. They'll track down your son's teacher and set up a conference call for the two of you, and they'll get ahold of Netflix and get dad watching movies in no time. And you? You'll get your actual work done.
The next step: outsourcing actual work
Outsourcing non-work tasks is a great start. It lets you get your feet wet and gets you in the delegating mindset, but we're just getting started. You've probably noticed, for example, that a lot of pre-work goes into work. Maybe every time you start a new project, there are contracts that need to be drawn up and a budget template that needs to be filled out. Ask yourself: Are you really the only person who can handle that task?
Try this: the very next time you sit down to do a task that you know you will have to do again at some point, document the process. Write down what you're doing every step of the way. The next time the task needs to be done, you can hand it off, along with the documentation, and let someone else do the work.
And here's where it gets really exciting, because you'll quickly realize that there are whole parts of your actual work that you can outsource. You may need to break it down into the components of the work — and that's actually a good thing. It forces you to think in terms of next actions. What actually needs to be done?
Let's take a closer look. "Start a company blog" is on your to-do list. Big task. And when you look at it like that, it'd be pretty hard to outsource. But if you start thinking of the various tasks involved, here's what you come up with:
research various blogging platforms
decide on a platform
install the blogging platform
create a design for the blog
write 3 posts per week on topic x
review and respond to comments daily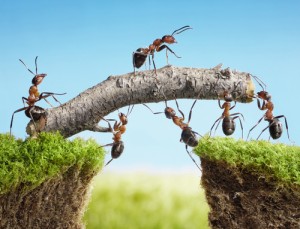 And suddenly you have a list of tasks that you can outsource to professionals — via oDesk or a similar site — who can do them even more efficiently than you can do them yourself. The really exciting part is that you can have the designer create mockups of the layout while your researcher is gathering information for you on platforms. And at the very same time, you can have a writer drafting up a dozen posts to get you going. So by the time you've chosen your platform and hired someone to install it, the design will be signed off on, and the posts will be ready to go — and all of this can happen very, very quickly.
Once you get used to handing off your tasks, you'll wonder how you ever managed before. It's a life changing moment. And change, while terrifying, can be a great thing.